Thank you for contacting McPride Roofing, a representative will contact you shortly.
Glenpool Roofing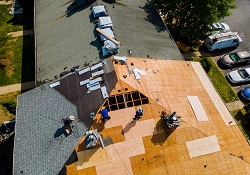 If you've arrived here, you either have damage to your roofing in Glenpool, OK, or you want to know what to do when you do. While we hope it is the latter, if you do experience roof damage, we are here to assist you! As a Glenpool
roofing company
since 2000, we've seen it all, from the best to the worst, and we've developed a technique to get your house back up and running as soon as possible.
When Should You Hire a Glenpool Roofer?
As an experienced roofer in Glenpool, OK, we have discovered that most of our clients associate roof damage with a large hole in the ceiling, or as we like to put it, the skylight you didn't order. Yes, it is roof damage, but unless there is a significant weather event or flying debris, that is not what causes the majority of the roof damage that we repair. A significant amount of roofing deterioration occurs gradually. It might start with a single missing shingle that jeopardizes the structural integrity of your roof. While a felt or fiberglass layer should be installed beneath the tiles, it will not keep the water out permanently.
Glenpool Roofing Contractor Tip:
Always check your roofing contractor in Glenpool, OK, has a current license, insurance, and a good Better Business Bureau (BBB) rating. CLICK HERE to read our BBB profile.
Furthermore, the persistent flow of water might eventually lead to the formation of mold or mildew in wet regions. Schedule a roof inspection if you want to be proactive, but you can simply take a stroll around your home on a regular basis to see if there are any missing shingles. You may be able to view them from the ground level as well, depending on the form of your roof. In addition, if you are brave and not frightened of heights, you may go for a walk on your roof, but be cautious.
Glenpool Roof Repair after a Storm
Then there's hail. According to our specialists for roof repair in Glenpool, OK, this is a two-edged sword. While your roof is designed to withstand hammering, it does not fare well in the face of hail. Hail occurs in a variety of forms and sizes, but anything quarter-sized or greater will do the most roof damage. Hail will weaken and prematurely wear down your roof by entering the roofing layers, beginning with your shingles. You may have witnessed or maybe experienced hail storms that shattered car windows or damaged the siding of your home. That usually happens with hail the size of a golf ball or a baseball, but hail, in general, is nothing to be taken lightly.
Glenpool Roofing Services that Exceeds Expectations!
McPride Roofing offers full-service, professional roofing in Glenpool, OK, and the surrounding communities. Tornadoes, powerful winds, hail, and storms pose a threat to Oklahoma houses and roofs. We conduct comprehensive hail and storm damage roof repair utilizing the best supplies on the market for high-quality home remodeling. Aside from roofing, we also provide siding, seamless gutters, and window and door installation.

There are several more ways your roof can be damaged in Oklahoma, but if your Glenpool roofing is more than ten years old and you have not had a roof inspection, contact us now. If you suspect that you have roof damage, don't wait for it to worsen. AND, if you just want to be certain, contact us RIGHT NOW to schedule a FREE roof checkup!
We Also Offer These Services: