Pizza Oven
Pizza Oven
Pizza Oven
Cambridge Fully Outdoor Assembled Pizza Oven
The Fully Assembled Outdoor Pizza Oven Below Is Delivered To Your Home In Two, Fully Assembled Pieces That Can Be Put Together in Less Than 1 Hour Onto A Poured Concrete Pad

Be the best pizza chef in town and the talk of friends and family! Bake the most delicious, traditional Italian pizza pies, open-faced baguette pizzas, homemade breads as well as roast vegetables and a variety of dishes right in your own backyard... all with authentic, brick oven flavor. The Old World look is further enhanced with an arch design over the wood storage compartment and 2 bands of granite tiles on 4 sides.
Firebrick-Lined Wood Burning Chamber
A Floor Containing A Special Cooking Stone Eliminates The Need To Rotate The Pizza While Its Cooking
Vented Damper Adjusts Air Flow For Temperature Control
Stainless Steel Chimney Liner, Termination Cap And Spark Screen
7 8 High, 4 11 1/2 Wide, 3 7 3/4 Deep
Professional Quality Care & Cooking Package
Temperature Gauge & Drop-Down Doors With Heat Dissipating, Stainless Steel Handles
Made of Cambridge Olde English Wall with Cambridge Bullnose around the oven insert, as well as across the top of each section and the arched opening of the wood storage compartment. Delivered to your home in a choice of two popular color combinations, the unitized wood burning chamber and oven with a built-in thermometer have stainless steel doors and handles. A floor containing a special cooking stone eliminates the need to rotate the pizza while cooking it. The chimney liner, termination cap and spark screen are also stainless steel. The bottom section contains an accessible storage area for your logs.
---
Color Combination Option Shown:
Olde English Wall Toffee/Onyx; Trim Across The Top Of Each Section And Around The Oven Insert And The Arched Opening Of The Wood Storage Compartment Cambridge Bullnose Bluestone Blend; Genuine Granite Tiles Black Uba Tuba.
---
Choice Of Designer-Inspired Color Combinations!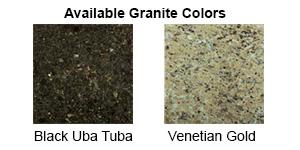 Alternative Color Combination Option:
Sahara/Chestnut Olde English Wall
Chestnut Cambridge Bullnose Trim
Venetian Gold Granite Tiles
Professional Quality Care & Cooking Package Includes...
13 Rectangular Pizza Peel For Inserting And Removing Your Pizza
8 Round Pizza Peel For Smaller Breads And Pies
Adjustable Brush With Copper Bristles
Oven Rake And Oven Ash Shovel
Wall-Mounted Peel Rack
Simple instructions in English and Spanish are included.
This Outdoor Pizza Oven Can Be Put Together In Less Than 1 Hour!
Two wallstones easily slide out from each section during the process to establish open pockets for a forklift. The wallstones can either be glued back into position or replaced without adhesive, should you want to relocate the pizza oven in the future.
Go Back